Fusion Landscaping is a style of landscape design that uses texture, colour and artistic touches to create beautiful outdoor spaces. It can also save water and reduce rainwater runoff which helps minimize the impacts of flooding.
Fusion Landscaping focuses on creating your ideal garden while: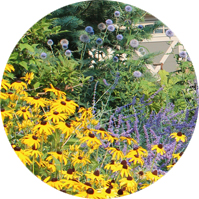 Adding depth, warmth and texture by using carefully selected plantings.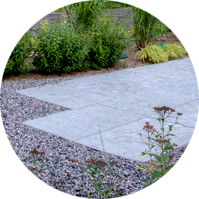 Increasing your outdoor living space through the use of permeable pavement and other features.
Optimizing the use of rainwater on your property with features such as rain barrels and rain chains.
Fusion Landscaping focuses on creating beautiful spaces that combine softscape (plants), hardscape (pavers) and rainwater elements (rain barrels).  These landscapes enhance outdoor spaces while providing solutions to reduce the potential impacts of flooding.